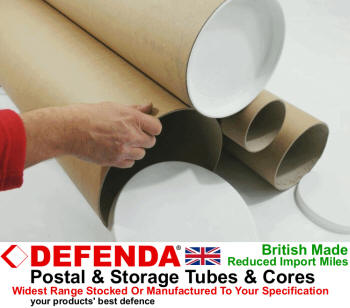 We Can Provide A Highly Efficient Service For Customers Requiring Custom Made Cores & Tubes In The Following Diameters.
1", 1.5", 2", 2.5" 3", 4", 5", 6", 7", 8", 9", 10", 11" or 12" Diameter Tubes & Cores
The above imperial spiral wound tube sizes are in many cases manufactured and held for quick delivery - in addition to many other non imperial sizes.
We have the tooling to produce numerous other diameter tubes but end caps may not always be available.
Our full range of tubes for which end caps are readily available are as follows:
0.82" (21mm), 1" (25mm), 1.25" (31.75mm), 1.5" (38mm), 1.75" (44.45mm), 2" (50.8mm), 2.25" (57.15mm), 2.5" (63.5mm), 3" (76.2mm), 3.25" (82.55mm), 3.5" (88.9mm), 4" (101.6mm), 4.5" (114.30), 5" (127mm), 5.5" (139.7mm), 6" (152.4mm), 8" (203.2mm), 10" (254mm), 12" (304.8mm)
Available Tube Diameters Without End Caps - Metric Sizes: 28.5mm, 31mm, 33mm, 36mm, 41mm, 54mm, 60mm, 65mm, 73mm, 77.5mm, 80mm, 92mm, 95mm, 98mm, 105mm, 108mm, 117mm, 140mm or 160mm
You Can Stipulate The Length Diameter & The Wall Thickness Required For Your Particular Application, Without The Need To Order Vast Quantities. This Will Help You Avoid The Storage Problems & Additional Costs Associated With Having To Hold Large Stocks.
Our Spiral Wound Tubes Are Suited To Many Applications Including: As Document Storage Tubes, Postal Tubes, Tape Cores And For More Unusual Uses Such As The Posting Of Violin Bows. The Larger Diameters Tubes Are Even Used By Keen HiFi Enthusiasts Building Their Own Speakers And As Rocketry Tubes. They Are Popular In The Construction Industry As Concrete Forms & As Props With Theatre Companies For Scenery & Other Things.
For More Information On Our Custom Made Spiral Wound Cardboard Storage Tubes, Cores & Mailing Tubes Email:customerservices@defendapack.net Or CALL US ON Telephone: 02476 422000