CSR5350RP 350kg Quick Assembly Shelving (Red) Or CSR5150RP 150kg Quick Assembly Shelving (Red)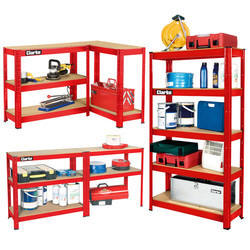 With no nuts and bolts, the slot and pin locking mechanism enables this 5 shelf unit to be assembled in minutes with just the use of a hammer. Available with either a 150Kg or 350Kg load capacity per shelf and in 4 colours, they are ideal for use in workshops, stores and garages.
The uprights feature a new rolled edge design providing a smoother finish with no sharp edges, increased strength and a sleeker look.


CSR5350RP 350kg

Supplied with five strong 12mm fibreboard shelves
Adjustable shelf height
Can be assembled as three different units – shelving, bench or corner unit
Tough powder coated finish available in a range of colours to suit your workshop/office etc.
Shelving Unit Dimensions (WDH): 900x400x1800mm
Bench Dimensions (WDH): 1800x400x900mm
Weight: 27.8kg

CSR5150RP 150kg

Supplied with five strong 9mm fibreboard shelves
Adjustable shelf height
Can be assembled as three different units - shelving, bench or corner unit
Tough powder coated finish available in a range of colours to suit your workshop/office etc.
Shelving Unit Dimensions (WDH): 800x300x1500mm
Bench Dimensions (WDH): 1600x300x750mm
Weight: 16.7kg